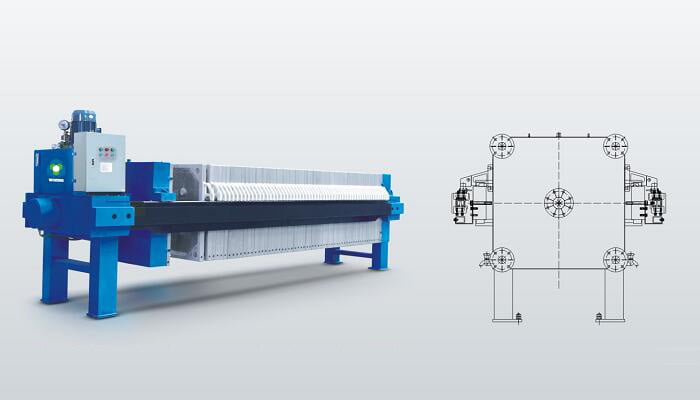 Applications: Filter press is suitable for almost all types of slurry, such as: ceramics industry, stone industry, glass industry, mining & minerals industry, coal washing, sand washing, pull&paper industry, food industry, chemical & pharmacy industry, electroplating industry, textile& dyeing, leather industry, municipal slurry etc.
Feature:
Using excellent steel by welded structure which is corrosion resisting, high rigidity,standard of structural stability and long service life;
Filter plate is made of high polymer PP and high pressure forming by special patented technology. The advantages are light in weight, corrosion resisting, acid-bass resisting, avirulent and tasteless etc;
The power plant pressure and remove are applying TAIWAN technology, and that is electrohydraulic integration, famous brand of component and durable service reliably;
High standard production technique and technology. It is simple to use, Safe in operation. convenient for service and a perfect solid-liquid separation equipment.
| Filtration area(㎡) | Thickness of filter plate(mm) | Plate size(mm) | Thickness of filter cake(mm) | Chanbers NO.(pc) | Total volume(L) | Working pressure(Mpa) | Motor power(kW) | Weight(kg) | External dimensions(L*W*H)(mm) |
| --- | --- | --- | --- | --- | --- | --- | --- | --- | --- |
| 560 | 83 | 2000 | 40 | 80 | 11160 | ≤0.8 | 11 | 56500 | 10600*2900*2450 |
| 600 | 83 | 2000 | 40 | 86 | 12010 | ≤ 0.8 | 11 | 58000 | 12110*2900*2450 |
| 700 | 83 | 2000 | 40 | 100 | 14130 | ≤ 0.8 | 11 | 62000 | 13370*2900*2450 |
| 800 | 83 | 2000 | 40 | 114 | 15970 | ≤ 0.8 | 11 | 65200 | 14460*2900*2450 |
| 900 | 83 | 2000 | 40 | 128 | 17950 | ≤ 0.8 | 11 | 69000 | 15640*2900*2450 |
| Filtration area(㎡) | Thickness of filter plate(mm) | Plate size(mm) | Thickness of filter cake(mm) | Chanbers NO.(pc) | Total volume(L) | Working pressure(Mpa) | Motor power(kW) | Weight(kg) | External dimensions(L*W*H)(mm) |
| --- | --- | --- | --- | --- | --- | --- | --- | --- | --- |
| 300 | 70 | 1500 | 30 | 77 | 4760 | ≤0.8 | 5.5 | 27000 | 10430*2400*1800 |
| 350 | 70 | 1500 | 30 | 90 | 5580 | ≤ 0.8 | 5.5 | 28730 | 11420*2400*1800 |
| 400 | 70 | 1500 | 30 | 103 | 6390 | ≤ 0.8 | 5.5 | 30450 | 12400*2400*1800 |
| 450 | 70 | 1500 | 30 | 116 | 7210 | ≤ 0.8 | 5.5 | 32170 | 13390*2400*1800 |
| 500 | 70 | 1500 | 30 | 128 | 7960 | ≤ 0.8 | 5.5 | 33890 | 14300*2400*1800 |
| Filtration area(㎡) | Thickness of filter plate(mm) | Plate size(mm) | Thickness of filter cake(mm) | Chanbers NO.(pc) | Total volume(L) | Working pressure(Mpa) | Motor power(kW) | Weight(kg) | External dimensions(L*W*H)(mm) |
| --- | --- | --- | --- | --- | --- | --- | --- | --- | --- |
| 120 | 60 | 1250 | 30 | 46 | 1800 | ≤0.8 | 4 | 7900 | 4990*1620*2030 |
| 160 | 60 | 1250 | 30 | 62 | 2400 | ≤ 0.8 | 4 | 8900 | 5950*1620*2030 |
| 180 | 60 | 1250 | 30 | 70 | 2700 | ≤ 0.8 | 4 | 9400 | 6430*1620*2030 |
| 200 | 60 | 1250 | 30 | 76 | 3000 | ≤ 0.8 | 4 | 9900 | 6790*1620*2030 |
| 250 | 60 | 1250 | 30 | 96 | 3750 | ≤ 0.8 | 4 | 11200 | 8090*1620*2030 |
| Filtration area(㎡) | Thickness of filter plate(mm) | Plate size(mm) | Thickness of filter cake(mm) | Chanbers NO.(pc) | Total volume(L) | Working pressure(Mpa) | Motor power(kW) | Weight(kg) | External dimensions(L*W*H)(mm) |
| --- | --- | --- | --- | --- | --- | --- | --- | --- | --- |
| 60 | 60 | 1000 | 30 | 36 | 900 | ≤0.8 | 4 | 4800 | 4100*1300*1830 |
| 70 | 60 | 1000 | 30 | 42 | 1050 | ≤ 0.8 | 4 | 5160 | 4460*1300*1830 |
| 80 | 60 | 1000 | 30 | 48 | 1200 | ≤ 0.8 | 4 | 5440 | 4800*1300*1830 |
| 90 | 60 | 1000 | 30 | 54 | 1350 | ≤ 0.8 | 4 | 5720 | 5180*1300*1830 |
| 100 | 60 | 1000 | 30 | 60 | 1500 | ≤ 0.8 | 4 | 6000 | 5590*1300*1830 |
| Filtration area(㎡) | Thickness of filter plate(mm) | Plate size(mm) | Thickness of filter cake(mm) | Chanbers NO.(pc) | Total volume(L) | Working pressure(Mpa) | Motor power(kW) | Weight(kg) | External dimensions(L*W*H)(mm) |
| --- | --- | --- | --- | --- | --- | --- | --- | --- | --- |
| 20 | 60 | 800 | 30 | 20 | 320 | ≤0.8 | 2.2 | 2200 | 2580*1100*1670 |
| 30 | 60 | 800 | 30 | 30 | 480 | ≤ 0.8 | 2.2 | 2500 | 3450*1100*1670 |
| 40 | 60 | 800 | 30 | 40 | 640 | ≤ 0.8 | 2.2 | 2850 | 4050*1100*1670 |
| 50 | 60 | 800 | 30 | 50 | 800 | ≤ 0.8 | 2.2 | 3150 | 4650*1100*1670 |
| 60 | 60 | 800 | 30 | 60 | 960 | ≤ 0.8 | 2.2 | 3500 | 5250*1100*1670 |
| 70 | 60 | 800 | 30 | 70 | 1120 | ≤ 0.8 | 2.2 | 3950 | 5900*1100*1670 |
| 80 | 60 | 800 | 30 | 80 | 1280 | ≤ 0.8 | 2.2 | 4300 | 6500*1100*1670 |
| Filtration area(㎡) | Thickness of filter plate(mm) | Plate size(mm) | Thickness of filter cake(mm) | Chanbers NO.(pc) | Total volume(L) | Working pressure(Mpa) | Motor power(kW) | Weight(kg) | External dimensions(L*W*H)(mm) |
| --- | --- | --- | --- | --- | --- | --- | --- | --- | --- |
| 8 | 50 | 630 | 25 | 13 | 100 | ≤0.8 | 2.2 | 1150 | 2010*830*1610 |
| 10 | 50 | 630 | 25 | 17 | 125 | ≤ 0.8 | 2.2 | 1200 | 2160*830*1610 |
| 12 | 50 | 630 | 25 | 19 | 150 | ≤ 0.8 | 2.2 | 1250 | 2310*830*1610 |
| 16 | 50 | 630 | 25 | 26 | 200 | ≤ 0.8 | 2.2 | 1330 | 2660*830*1610 |
| 20 | 50 | 630 | 25 | 32 | 250 | ≤ 0.8 | 2.2 | 1410 | 2960*830*1610 |
| 25 | 50 | 630 | 25 | 40 | 313 | ≤ 0.8 | 2.2 | 1540 | 3360*830*1610 |
| 30 | 50 | 630 | 25 | 48 | 375 | ≤ 0.8 | 2.2 | 1670 | 3760*830*1610 |
| Filtration area(㎡) | Thickness of filter plate(mm) | Plate size(mm) | Thickness of filter cake(mm) | Chanbers NO.(pc) | Total volume(L) | Working pressure(Mpa) | Motor power(kW) | Weight(kg) | External dimensions(L*W*H)(mm) |
| --- | --- | --- | --- | --- | --- | --- | --- | --- | --- |
| 4 | 50 | 500 | 25 | 10 | 50 | ≤0.8 | 2.2 | 550 | 1850*720*1610 |
| 6 | 50 | 500 | 25 | 15 | 75 | ≤ 0.8 | 2.2 | 600 | 2100*720*1610 |
| 8 | 50 | 500 | 25 | 20 | 100 | ≤ 0.8 | 2.2 | 650 | 2350*720*1610 |
| 10 | 50 | 500 | 25 | 25 | 125 | ≤ 0.8 | 2.2 | 700 | 2600*720*1610 |
| 12 | 50 | 500 | 25 | 30 | 150 | ≤ 0.8 | 2.2 | 800 | 2850*720*1610 |