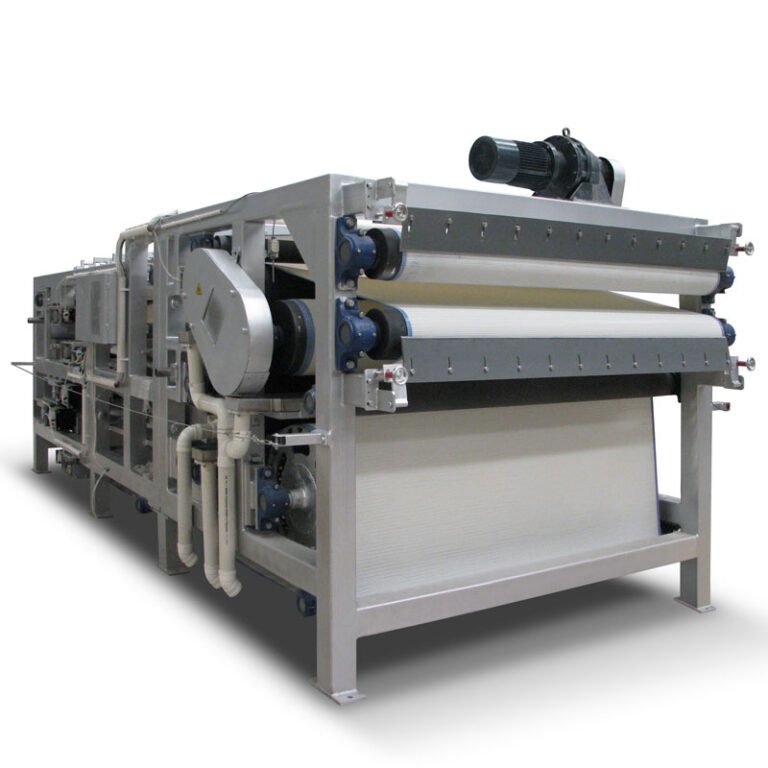 Belt press filter is a new type of continuous solid-liquid separation equipment. After flocculation, gravity dehydration, low-pressure dehydration and high-pressure dehydration, the sludge cake runs with the filter belt and the discharged material falls. Compared with other types of filters, it has the characteristics of continuous operation, large output, simple structure, high efficiency, low noise and low energy consumption.
Applicable to: ceramic, metallurgical, coal washing, textile printing and dyeing, urban sewage, paper, petrochemical, leather, brewing, food processing, chemical, pharmaceutical electroplating and other industries.
For sludge dewatering which need a pre-floculation: After mixing with the prepared flocculation in the dynamic and static mixer, the small particles solids in the concentrated sludge would form bigger size of flocculated sludge and the free water is separated. 
Flocculated sludge is conveyed to the belt then it further goes to the gravity dewatering area. Under the gravity, free water would fall on the tray, and the rest sludge would be nipped between two belts. 
Then it would further goes to the wedge zone for pre-filtration, and then to low pressure zone and high pressure zone through the decreasing diameter rolls. Under the extrusion and shearing force, the solid and liquid is separated. Finally filter cake with expected low moisture content is discharged.
Type
Belt Width
(mm)
Throughput
(m3/h)
Thickener
(kw)
Main driver
(kw)
Dimension
Weight(t)
KN1000
1000
8-15
1.1
3
4700*1600*2180
3
KN1500
1500
15-25
1.1
4
5800*2150*2350
4.5
KN2000
2000
20-35
1.5
5.5
5800*2650*2580
6.8
KN2500
2500
25-40
2.2
5.5
6700*3200*2850
10
KN3000
3000
35-55
2.2
7.5
6700*3700*2850
12.5
KS2500
2500
35-50
2.2
7.5
13000*3200*2850
12
KS3000
3000
45-65
3
11
13000*3700*2850
15
According to the specific sludge capacity requirement, the width of machine can be chosen from 1000mm-3000mm(The choice of thickening belt and filter belt would vary/according to different types of sludge). Stainless steel of belt filter press is also available.
It's our pleasure to offer the most suitable and most economic effective proposal for you according to your project!